Overview
Your forecast for a healthier day.
Throughout the day, Weather My Way provides personalized guidance for a healthier day by analyzing your genes and the weather, together.
ALERT: The Weather My Way app currently has an issue impacting the ability to sign in and receive weather forecasts. We're working on a great upgrade to this app, which will also fix these issues. Until then, you may receive errors when using this app.
Please consider using our other apps until this issue is resolved.
As an apology for the issue with the Weather My Way app, here's a discount code for 75% off the very popular Wellness and Longevity app: AMAZING75
This is not just another weather app. Weather My Way uses Sequencing.com's Real-Time Personalization® (+RTP) technology to provide you with daily guidance and insights based upon your genes!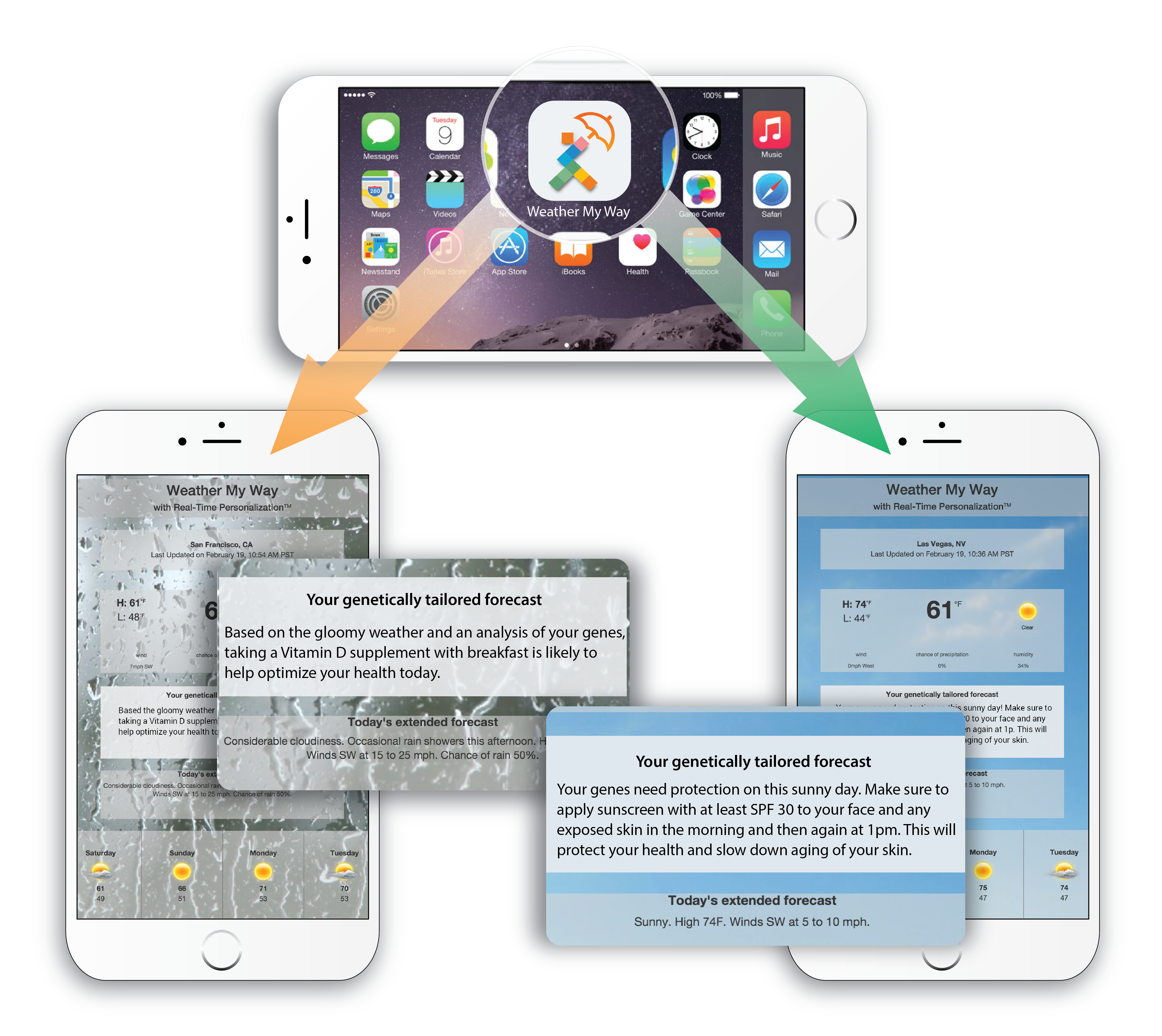 Let your genes guide you (it's easy!)
You'll find that this app is not only nice to look at but also simple to use. You're obviously already online (since you're reading this right now) and that's all the technical skill required to benefit from this app. Since you've shown you can get online, using Weather My Way is going to be a piece of cake!
The world's most advanced weather app is also simple and friendly to use.
This app is certified free of technical jargon and scientific lingo. It was designed to integrate seamlessly into your daily routine so that you obtain value in a matter of seconds.
Value in seconds? Yes, just a few seconds per day! The personalized guidance you'll receive is straightforward, empowering and about the length of a tweet. The app also has the option to send you your personalized forecast by text message (SMS) or email each day.
Obtain value from your genes, every day!
Weather My Way's guidance is always up-to-date because the app's analysis occurs in real-time. This means that the app accesses and analyzes your genes and the weather each time you use the app.
What if I haven't yet had genetic testing and don't have access to my genetic data?
You can still use this app! When you sign into the app for the first time you'll have the option to select from a list of fun sample genomes. The sample genomes are from real individuals so the personalization is real, too.
Want to be empowered by your child's forecast?
The Weather My Child's Way +RTP app is designed for parents who want to guide their child towards optimal health, every day.
Instructions
The app is easy to use.
1. Weather My Way +RTP is available for the iPhone, Android and also accessible as a web app from any internet browser.
iPhone and Android: Click the icon below to install the app on your device.
Don't have an iPhone or Android? Try the web version: https://weathermyway.rocks
2. Click the 'Sign in with Sequencing.com' button
​​​

3. Authorize the app to securely access your genetic data
Providing this app with access to your genetic data is safe because the app has been reviewed and approved by Sequencing.com.
4. Select either a sample file or your own genetic data file.
To use your own genetic data, use the Upload Center to first upload your genetic data file to your Sequencing.com account.
The app's personalization will be powered by the genetic data in the file you select.
5. That's it!
The app will analyze your genes and the current weather.
The app will then display your personalized guidance along with the weather forecast.
Daily Notifications

A healthy day starts with your genetically tailored forecast.
The Weather My Way app includes the option to receive your personalized forecast every morning when you wake up.
There are three ways to receive the daily notification:
on your device (if using the iPhone or Android version of the app, your daily forecast will appear as a pop-up on your device)
text message (SMS)
email
To turn on notifications:
press the menu icon in the top left of the app and then go to Settings.
select your notification preference
enter your wake-up time on the weekdays and weekends
iPhone, iPad, & Android

Weather My Way +RTP is now available on the iPhone, Apple Watch and Android.
iPad and Android tablet versions are coming soon. Check back here for updates!
FAQs
What is Real-Time Personalization® (+RTP)?
Click here to learn more about RTP.
What if I don't have genetic data?
You can still use this app. When you sign into the app for the first time you'll have the option to select from a list of fun sample files if you don't have your own. All of the sample data are from real individuals so the personalization is real, too.
The sample files are preloaded so just select the one you want and the app will then be personalized in real-time to that sample file's genetic data!
What types of genetic data can I use with this app?
You can use genetic data from almost any laboratory including 23andMe, Ancestry.com, Family Tree DNA, The Genographic Project (National Geographic) and Nexus. Whole genome sequencing data and exome sequencing data can also be analyzed.
Do I need to do anything to the file containing my genetic data before it is analyzed by this app?
Good news... Sequencing.com does everything for you so this app can use any genetic data file without requiring you to do anything!
All you need to do is either upload or import the file containing your genetic data into your Sequencing.com account. Start the app, select the file and the app will handle do everything else.
Both whole and exome sequencing data can be provided unaligned (such as in FASTQ or FASTA formats), aligned but without variant calling (such as BAM or SAM formats) or in VCF, CRAM or AVRO formats.
What about determining sex or reference genome used when the data was created?
Some more good news... the app does this as well. It utilizes Sequencing.com's advanced automated approach to determine sex and reference genome (if the file format is downstream of alignment).
Support
If you need assistance, please submit a Support Request or send us an email. The Weather My Way team is here to help.
Disclaimer
The genetic analysis and statements that appear in this app have not been evaluated by the United States Food and Drug Administration. The Sequencing.com website and all software applications (Apps) that use Sequencing.com's website, as well as Sequencing.com's open Application Programming Interface (API), are not intended to diagnose, treat, cure, or prevent any disease.