Overview

Your DNA Report for Medication and Drug Reactions
Advanced pharmacogenomics analysis
The Medication & Drug Response DNA Report includes information about your risk of medication side effects with common medications as well as your risk of addiction to certain medications and illicit drugs.
The report includes:
Response to medications
Risk of harmful side effects
Risk of addiction

Alcohol
Nicotine
Marijuana / Cannabis
Cocaine
Opiates
Categories of medications included in the report
Anticoagulants
Antidepressants
Asthma Treatment
Cardiovascular Disease Treatment
Neuropathic Pain Treatment
Type-2 Diabetes Treatment
Medications that have an Addiction Risk
Illicit Drugs
The complete list of medications and drugs is included in the 'List of Medications' tab.
Sample Pharmacogenomics Report Pages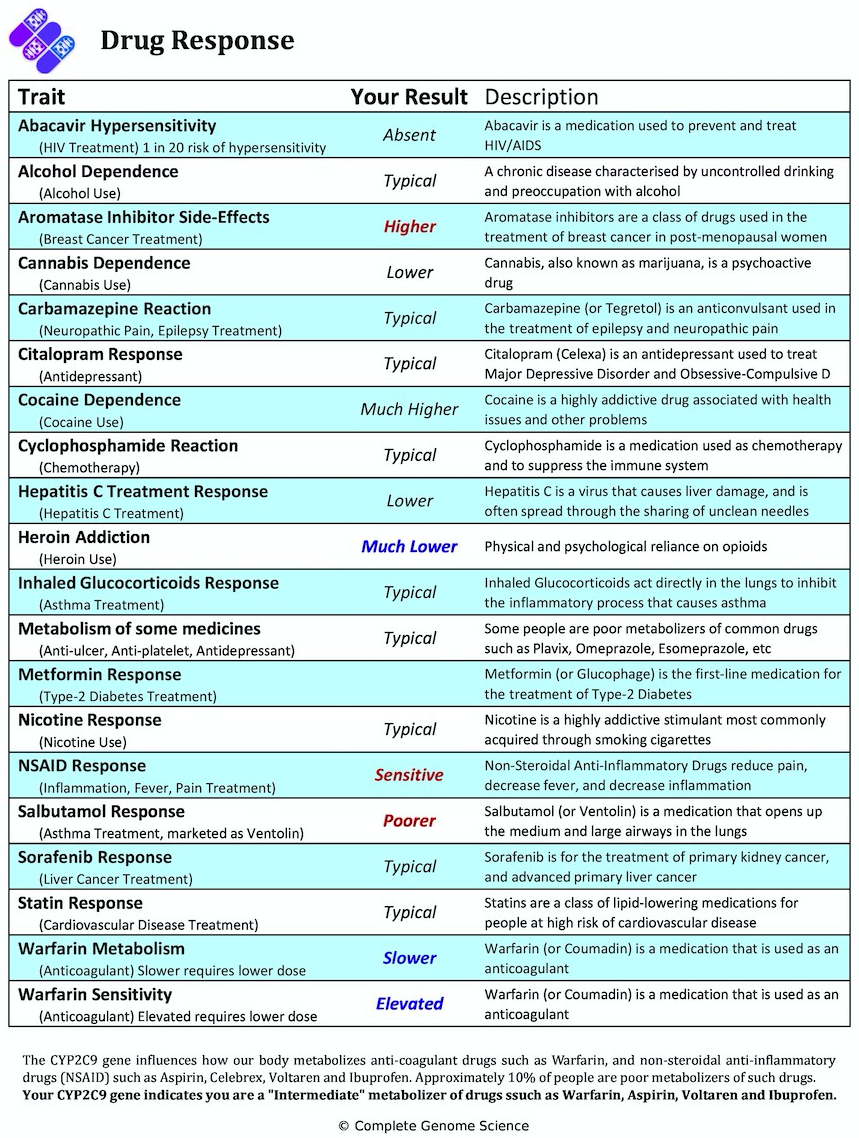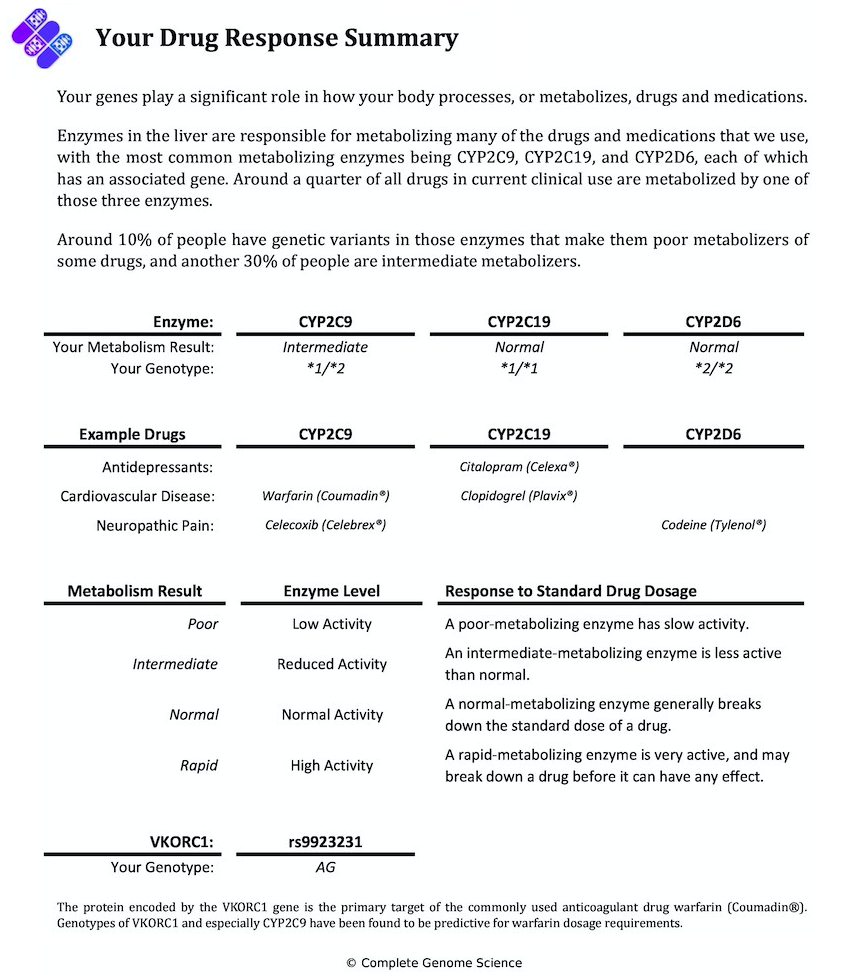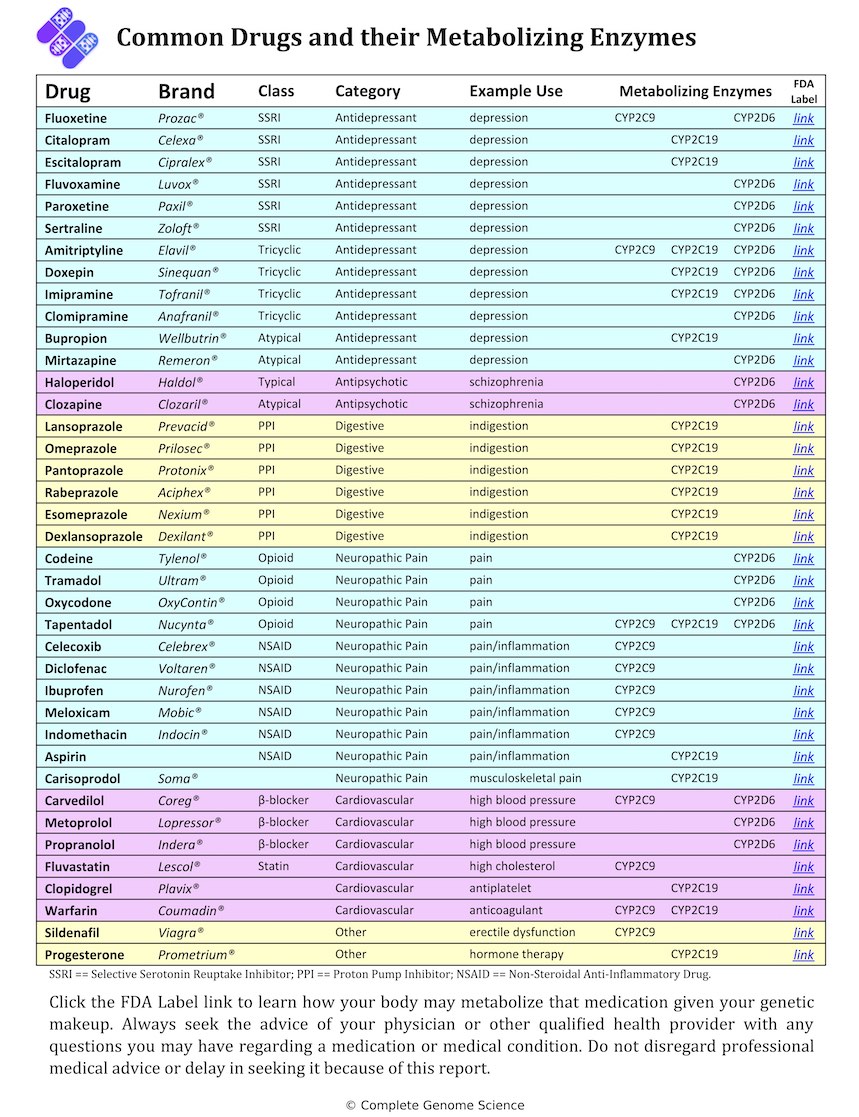 Learn More About Medication Reactions
Sequencing's Education Center includes several insightful articles about medication reactions. For example, you can learn about the effect of medicine on the body as well as how to reduce the side effects of medicine. Additional articles are added every week!
Free DNA Data Upload

Powered by Universal DNA Compatibility technology, this genetic report is compatible with data from most DNA tests.
Use the Upload Center to upload your DNA data.
Test Compatibility
Format Compatibility
Variant Compatibility
Reference Genome Compatibility
Whole Genome Sequencing
FASTQ and FQ
SNP / SNV
(Single Nucleotide Variants)
hg38 / GRCh38
Exome Sequencing
FASTA and FA
hg19 / GRCh37
Ultimate DNA Test
BAM
hg18 / GRCh36
23andMe
SAM
hg17 / GRCh35
AncestryDNA
CRAM
MyHeritage
VCF
Dante Labs
Genome VCF (gVCF and GVCF)
Nebula Genomics
TXT
Genes for Good
CSV
Living DNA
TAB
HomeDNA
gz and zip compressed files
FTDNA
almost all other genetic data formats
Silverberry Genomix
Toolbox Genomics
Full Genomes
Color
New Amsterdam Genomics
24Genetics
Vitagene
Helix
Genos
tellmeGen
GSA
Axiom
almost all other genetic tests
List of Medication

Learn how your DNA impacts your response to medications and drugs.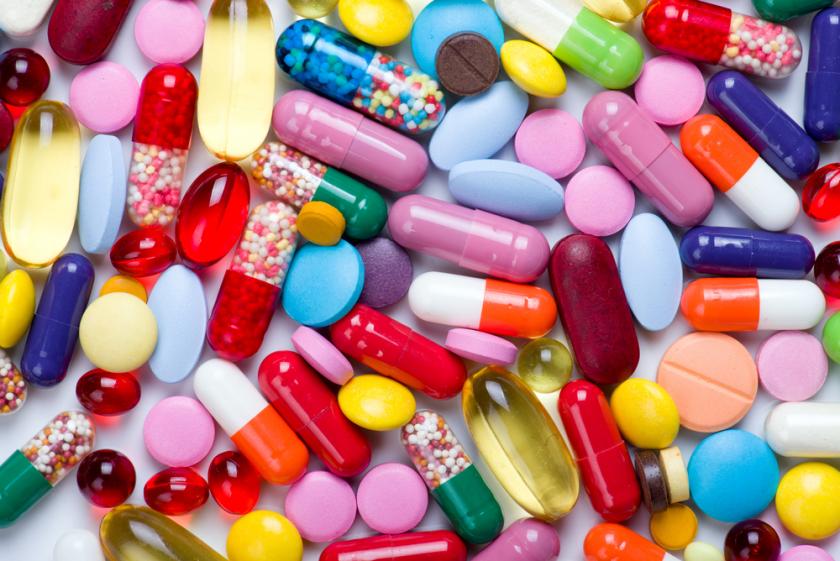 Metabolism of some medicines (Anti-ulcer, Anti-platelet, Antidepressant)
Common drugs such as Plavix, Omeprazole, Esomeprazole and more
Risk of addiction
Alcohol
Cannabis
Cocaine
Opiates including Heroin
Nicotine
Medications used to treat infections
Abacavir Hypersensitivity (HIV treatment)
Hepatitis C treatment response
Asthma treatment
Inhaled Glucocorticoids response
Salbutamol (Ventolin) response
Diabetes medications
Metformin Response (Type-2 Diabetes treatment)
Carbamazepine (Tegretol) Reaction (Neuropathic pain, epilepsy treatment)
Heart medications
Statin Response
Warfarin (Coumadin) Dosing (Anticoagulant)
Medication to treat diseases common and rare diseases
NSAID Response (Inflammation, fever, pain treatment)
Aromatase Inhibitor Side-Effects (Breast cancer treatment)
Carbamazepine (Tegretol) Reaction (Neuropathic pain, epilepsy treatment)
Citalopram (Celexa) Response (Antidepressant)
Cyclophosphamide Reaction (Chemotherapy)
Sorafenib Response (Liver cancer treatment)
Warfarin Dosing
The following information is from the FDA's labeling information for Warfarin (Coumadin®).
Warfarin Dosing Recommendations with Consideration of Genetic Data
Table 1 below displays three ranges of expected maintenance COUMADIN doses observed in subgroups of patients having different combinations of CYP2C9 and VKORC1 gene variants [see Pharmacogenomics section 12.5].
If the patient's CYP2C9 and/or VKORC1 genotype are known, consider these ranges in choosing the initial dose. Patients with CYP2C9 *1/*3, *2/*2, *2/*3, and *3/*3 may require more prolonged time (>2 to 4 weeks) to achieve maximum INR effect for a given dosage regimen than patients without these CYP variants.
Table 1: Three Ranges of Expected Maintenance COUMADIN Daily Doses Based on CYP2C9 and VKORC1 Genotypes †
VKORC1

CYP2C9

*1/*1

*1/*2

*1/*3

*2/*2

*2/*3

*3/*3

GG

5-7 mg

5-7 mg

3-4 mg

3-4 mg

3-4 mg

0.5-2 mg

AG

5-7 mg

3-4 mg

3-4 mg

3-4 mg

0.5-2 mg

0.5-2 mg

AA

3-4 mg

3-4 mg

0.5-2 mg

0.5-2 mg

0.5-2 mg

0.5-2 mg
† Ranges are derived from multiple published clinical studies. VKORC1 - 1639G>A (rs9923231) variant is used in this table. Other co-inherited VKORC1 variants may also be important determinants of warfarin dose.
Warfarin Dosing Recommendations without Consideration of Genetic Data
If the patient's CYP2C9 and VKORC1 genotypes are not known, the initial dose of COUMADIN is usually 2 to 5 mg once daily.
Determine each patient's dosing needs by close monitoring of the INR response and consideration of the indication being treated. Typical maintenance doses are 2 to 10 mg once daily.
Related DNA Apps

Sequencing.com is the world's largest DNA App Store. We have an app for almost everything that can be determined from your genes.
Additional DNA Reports by Complete Genome Science
Disclaimer
The genetic analysis and statements that appear in this app have not been evaluated by the United States Food and Drug Administration. The Sequencing.com website and all software applications (Apps) that use Sequencing.com's website, as well as Sequencing.com's open Application Programming Interface (API), are not intended to diagnose, treat, cure, or prevent any disease.
This DNA analysis app, and the report produced by this app, do not determine whether a medication is appropriate and they also do not provide medical advice or diagnose any medical conditions. You should not use this report to make treatment decisions. Always seek the advice of your physician or other qualified health providers with any questions you may have regarding a medication or medical condition. Do not disregard professional medical advice or delay in seeking it because of this report. Any medical decisions should be made only after discussing the results with your health care provider. Your health care provider may determine that the results need to be confirmed using clinical pharmacogenetics testing.