Overview
Just In Time For Christmas... A Spectacular New DNA Analysis App Has Arrived!
This app compares your DNA to St. Nick's DNA. Yes, this app really does analyze the similarity between you and Santa!
The Full Santa App Story
To discover the incredible full story of how we obtained Santa's DNA, start the app and select 'Learn More'.
The Short Santa App Story
Santa's genome is a 'virtual genome' developed by Sequencing.com's Bioinformatics Team!
What's a virtual genome? It's a genome we created using algorithms that define a person with all of the traits we know and love about Santa.
We also added DNA sequences from various populations that Santa is thought to have originated from, including Norwegian, Finnish and Turkish populations.
Below are some of the traits that were used to create Santa's genome:
Packed on a few pounds

Optimistic

Jolly

A Saint (always nice and never naughty)

A people pleaser

Extremely productive throughout the night

Enjoys carbs and sweets

Incredibly strong (carrying that giant sack of toys)

Risk-taker (sliding down chimneys)

Amazing stamina

Very long lifespan

Wears glasses

Full head of white hair
Getting Started
This app is compatible with most DNA tests including 23andMe, AncestryDNA, and MyHeritage.
Simply upload your DNA data to use this app.
If you haven't yet taken a DNA test, order one of our DNA tests. Our DNA kits make great gifts!
Once your DNA data is stored in your Sequencing.com account, click the app's 'Start' button. You'll usually receive your results within 15 minutes but if all the elves are overwhelmed with so many people using this app, it can take up to a day to complete.
You've already taken a DNA test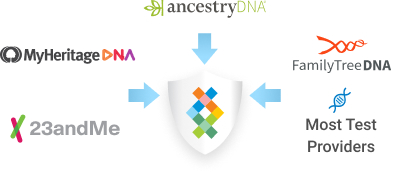 Our Universal DNA Compatibility enables this app to work with DNA data from almost any genetic test including 23andMe, Ancestry, MyHeritage, FTDNA and genome sequencing.
You need a DNA test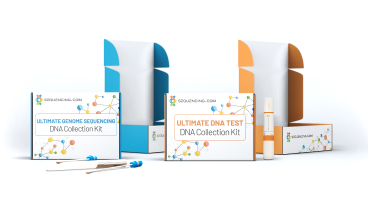 Our clinical-grade 30x Whole Genome Sequencing test obtains data on 100% of your genome.
Learn More About New Ways To Use Your DNA
Sequencing's new DNA Education Center is your resource for learning about genetic genealogy, personalized medicine, and DNA discoveries. For example, you can learn about the role of your genes in determining your risk of medication side effects.
If you're more interested in how DNA is used in pop culture, The Sequencing Blog provides weekly insights. Our blog includes the latest trends and technological advancements that are integrating DNA into our daily lives including articles on how to use your DNA to personalize your beauty regimen, your lifestyle, and your health.
Free DNA Data Upload

Compatible with data from almost all DNA tests and genome sequencing services.
Test Compatibility
Format Compatibility
Variant Compatibility
Reference Genome Compatibility
Whole Genome Sequencing
FASTQ and FQ
SNP / SNV
(Single Nucleotide Variants)
hg38 / GRCh38
Exome Sequencing
FASTA and FA
hg19 / GRCh37
Ultimate DNA Test
BAM
hg18 / GRCh36
23andMe
SAM
hg17 / GRCh35
AncestryDNA
CRAM
MyHeritage
VCF
Dante Labs
Genome VCF (gVCF and GVCF)
Nebula Genomics
TXT
Genes for Good
CSV
Living DNA
TAB
HomeDNA
gz and zip compressed files
FTDNA
almost all other genetic data formats
Silverberry Genomix
Toolbox Genomics
Full Genomes
Color
New Amsterdam Genomics
24Genetics
Vitagene
Helix
Genos
tellmeGen
GSA
Axiom
almost all other genetic tests
Related DNA Apps

Sequencing.com is the world's largest DNA App Store. We have an app for almost everything that can be determined from your genes.
Related DNA Apps