Overview

Advanced Ancestry Analysis For Genealogy Explorers
The Genetic Ancestry DNA Report uses over thirty reference populations to determine your ancestral composition.
The report also analyzes and identifies all the genetic variants that determine your Maternal Mitochondrial haplogroup, and (if you are a male) your Paternal Y-Chromosome haplogroup.
Your Genetic Ancestry report will include:
Ancestry Composition
Ancestry Composition - Extended Details NEW!
Admixture Analysis
Maternal Haplogroup (Mitochondrial Assessment)
Paternal Haplogroup (Y-Chromosome Assessment)
Haplogroup Distribution
Historical Figures That Share Your Haplogroup NEW!
Comprehensive haplogroup assessment will be included in your report if your DNA data includes mitochondrial data (maternal haplogroup) and chromosome Y data (paternal haplogroup).
Which famous people share your DNA?
The new, enhanced haplogroup section compares your DNA to famous historical figures that share your haplogroup!
Sample DNA Report Pages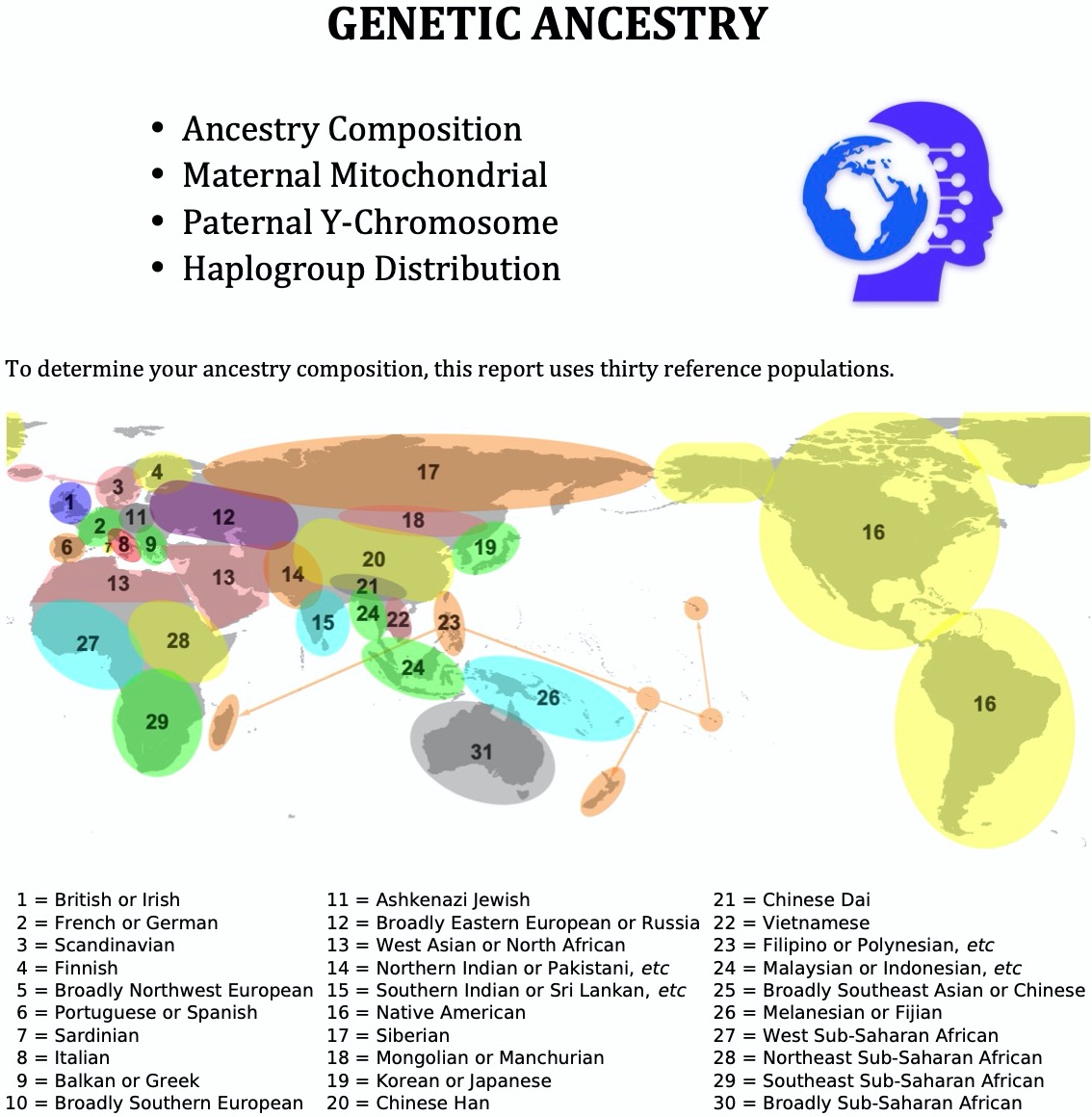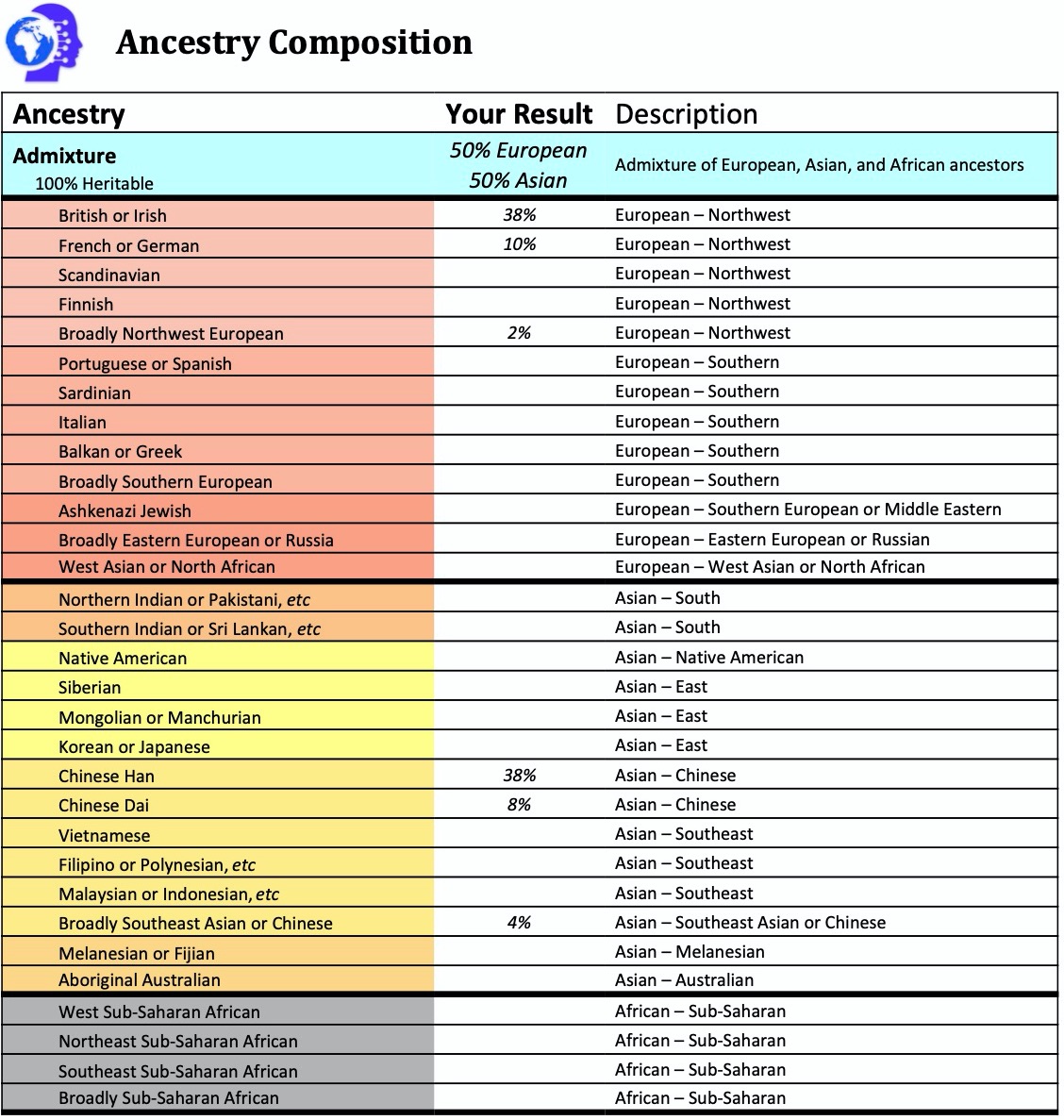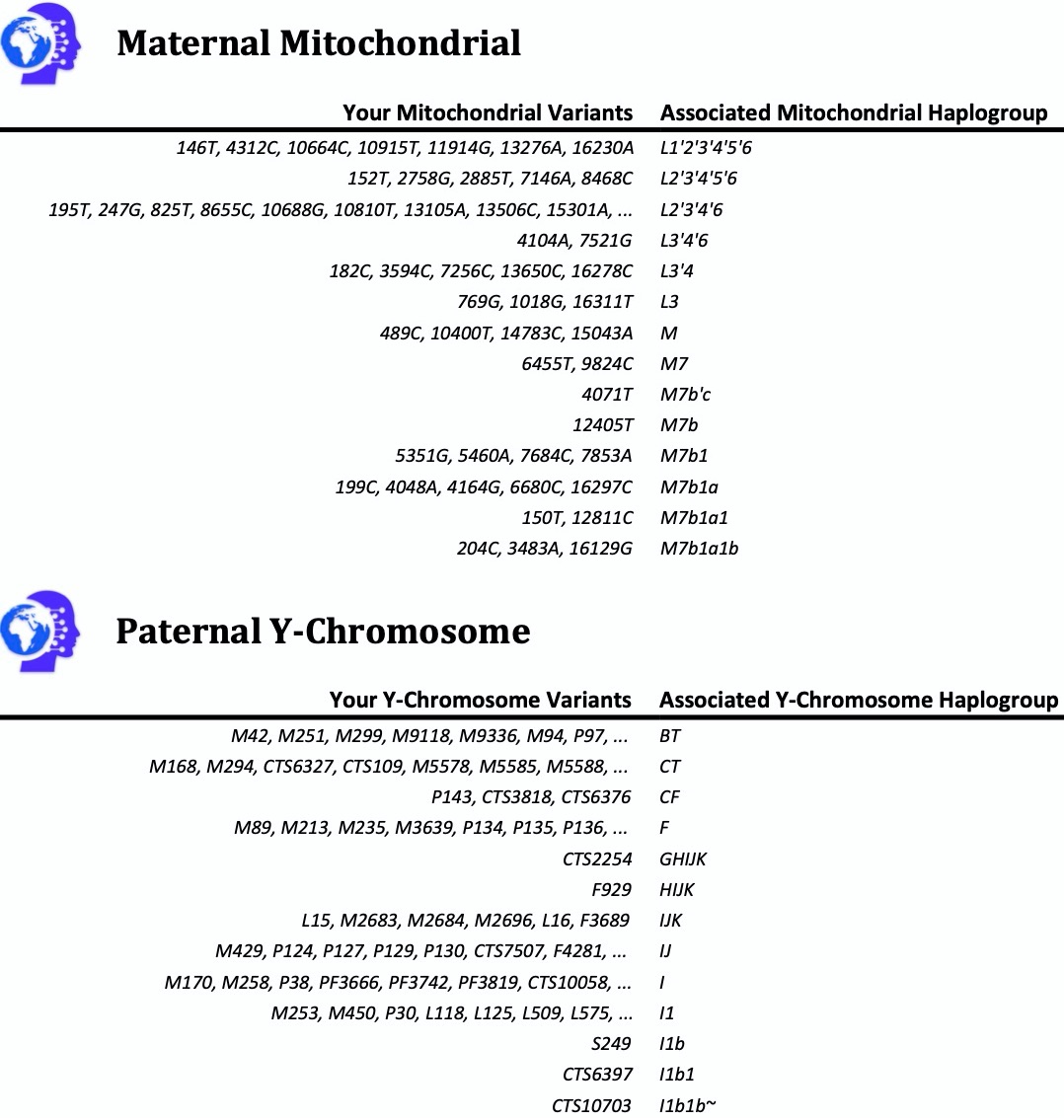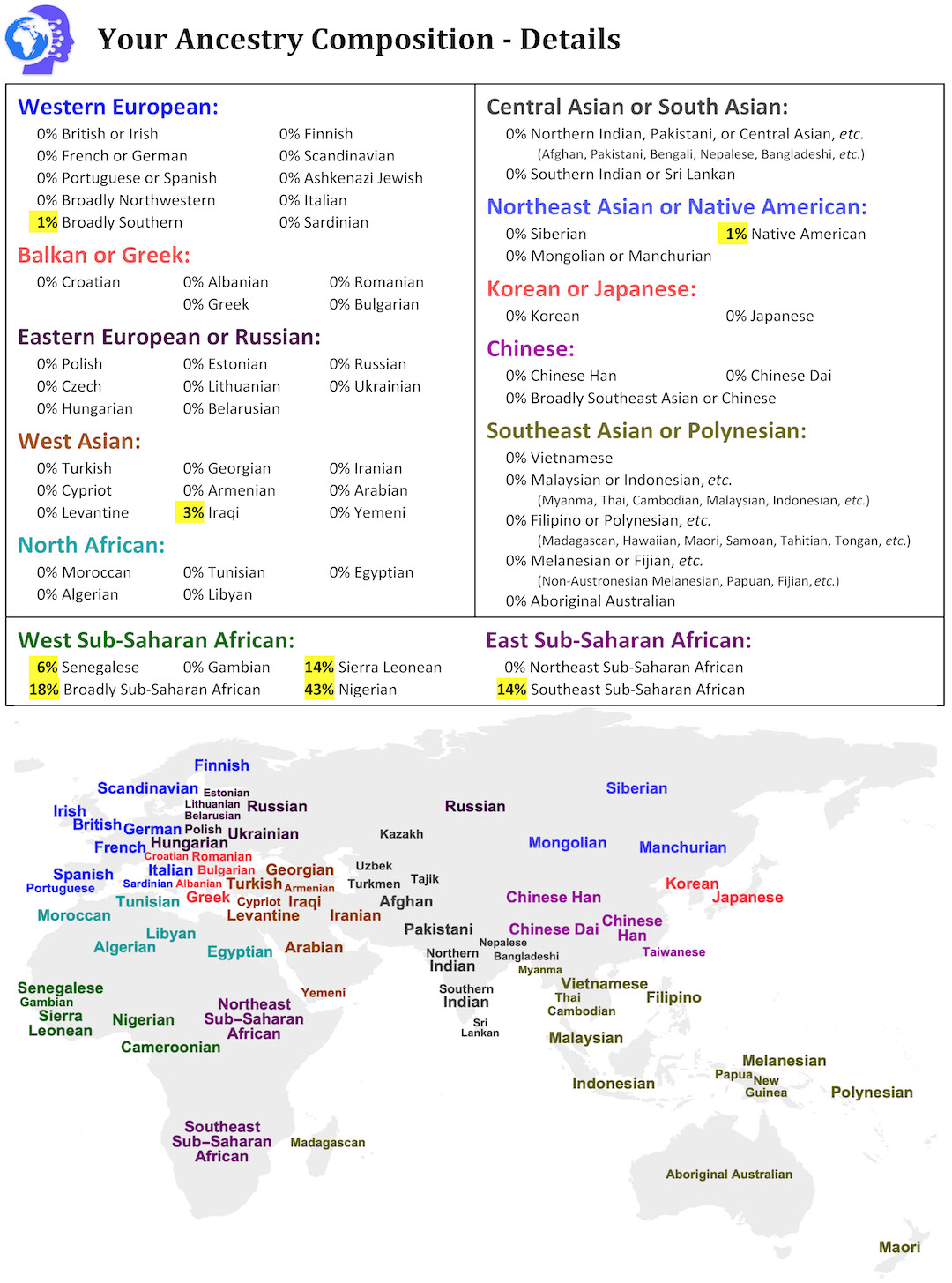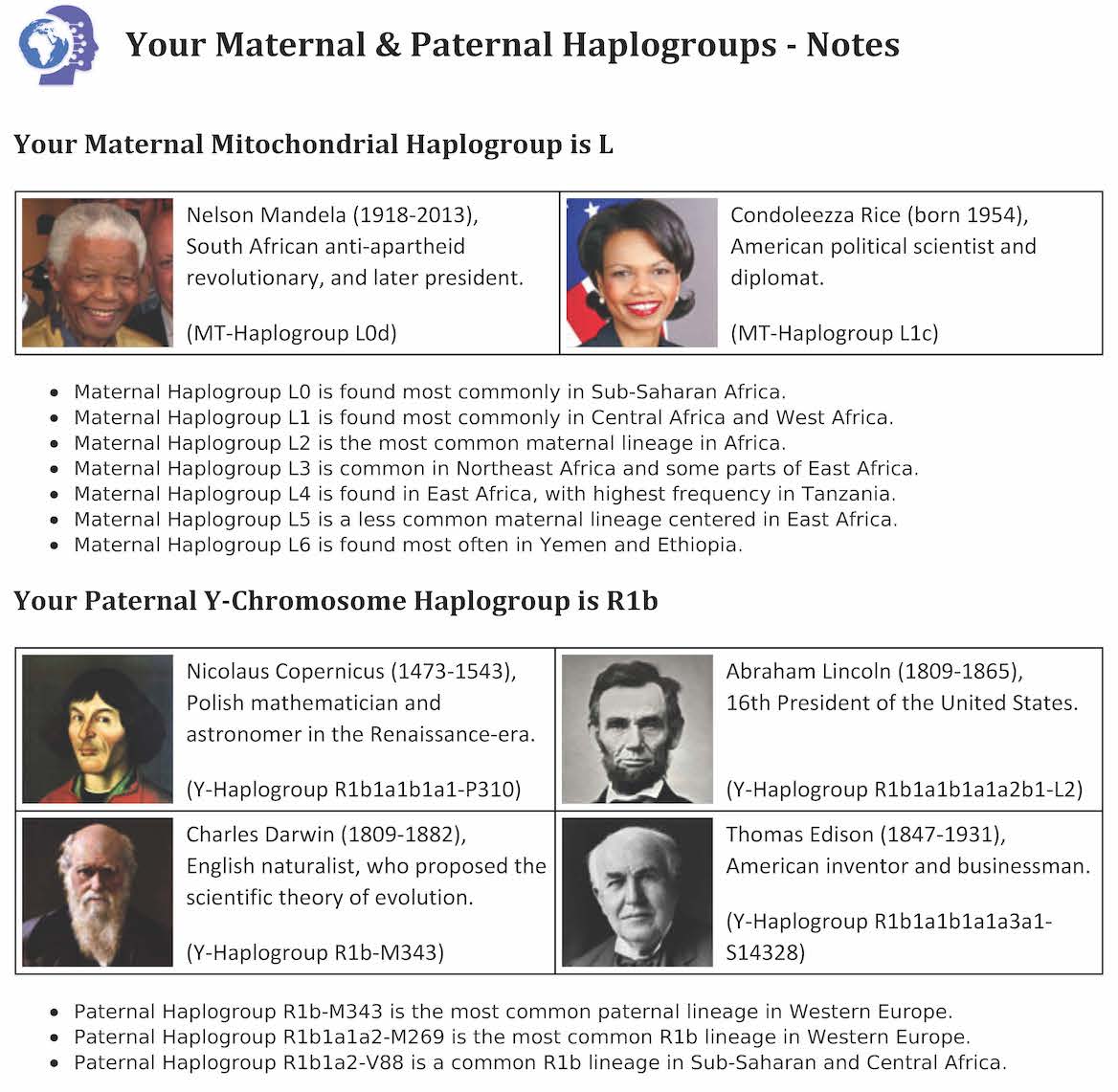 Getting Started

This report analyzes your DNA and provides insights into your genetic ancestry.
Once your DNA data is stored in your Sequencing.com account, after purchasing this DNA report simply click the app's 'Start' button and you'll soon have your results.
If your DNA data is not already stored in your account, you can either import your data from a DNA test you've already taken (such as from 23andMe or AncestryDNA) or you can order one of our DNA tests.
| You've already taken a DNA test | You need a DNA test |
| --- | --- |
| | |
| | |
| | |
| | |
| Our Universal DNA Compatibility enables this app to work with DNA data from almost any genetic test including 23andMe, Ancestry, MyHeritage, FTDNA, and genome sequencing. | Our clinical-grade 30x Whole Genome Sequencing test obtains data on 100% of your genome. |
Upload DNA Data

This DNA analysis app is compatible with data from most DNA tests.
Use the Upload Center to upload your DNA data.
Test Compatibility
Format Compatibility
Variant Compatibility
Reference Genome Compatibility
Whole Genome Sequencing
FASTQ and FQ
SNP / SNV
(Single Nucleotide Variants)
hg38 / GRCh38
Exome Sequencing
FASTA and FA
hg19 / GRCh37
Ultimate DNA Test
BAM
hg18 / GRCh36
23andMe
SAM
hg17 / GRCh35
AncestryDNA
CRAM
MyHeritage
VCF
Dante Labs
Genome VCF (gVCF and GVCF)
Nebula Genomics
TXT
Genes for Good
CSV
Living DNA
TAB
HomeDNA
gz and zip compressed files
FTDNA
almost all other genetic data formats
Silverberry Genomix
Toolbox Genomics
Full Genomes
Color
New Amsterdam Genomics
24Genetics
Vitagene
Helix
Genos
tellmeGen
GSA
Axiom
almost all other genetic tests
Related DNA Reports

Sequencing.com is the world's largest DNA App Store. We have an app for almost everything that can be determined from your genes.
Additional DNA Reports by Complete Genome Science
Disclaimer
The genetic analysis and statements that appear in this app have not been evaluated by the United States Food and Drug Administration. The Sequencing.com website and all software applications (Apps) that use Sequencing.com's website, as well as Sequencing.com's open Application Programming Interface (API), are not intended to diagnose, treat, cure, or prevent any disease.