Overview

Discover Your DNA Selfie, The World's First Genetic Selfie!
Take a selfie using only your DNA.
DNA Selfie uses DNA phenotyping technology that's backed by science. The app analyzes genetic data and provides that person's most likely facial image.
Eye Color
Hair Color
Hair Shade
Skin Color
This app also includes:
the ability to download, share and modify your selfie
statistical results showing the likelihood for each trait
additional images arranged from most to least likely
Discover Your Genetic Picture.
Compare your selfie to the selfies of your family members.
Share your selfie with friends.
Use your selfie as your online avatar at your favorite sites and games.
Getting Started
This app is compatible with most DNA tests including 23andMe, AncestryDNA, and MyHeritage.
Simply upload your DNA data to use this app. If you haven't yet taken a DNA test, order one of our DNA tests.
Once your DNA data is stored in your Sequencing.com account, click the app's 'Start' button. You'll receive your results in about 15 minutes.
You've already taken a DNA test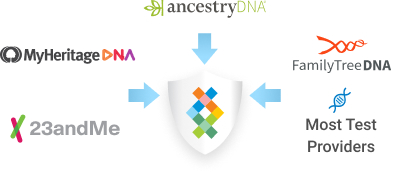 Our Universal DNA Compatibility enables this app to work with DNA data from almost any genetic test including 23andMe, Ancestry, MyHeritage, FTDNA and genome sequencing.
You need a DNA test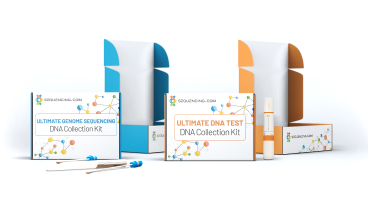 Our clinical-grade 30x Whole Genome Sequencing test obtains data on 100% of your genome.
Example DNA Selfie 1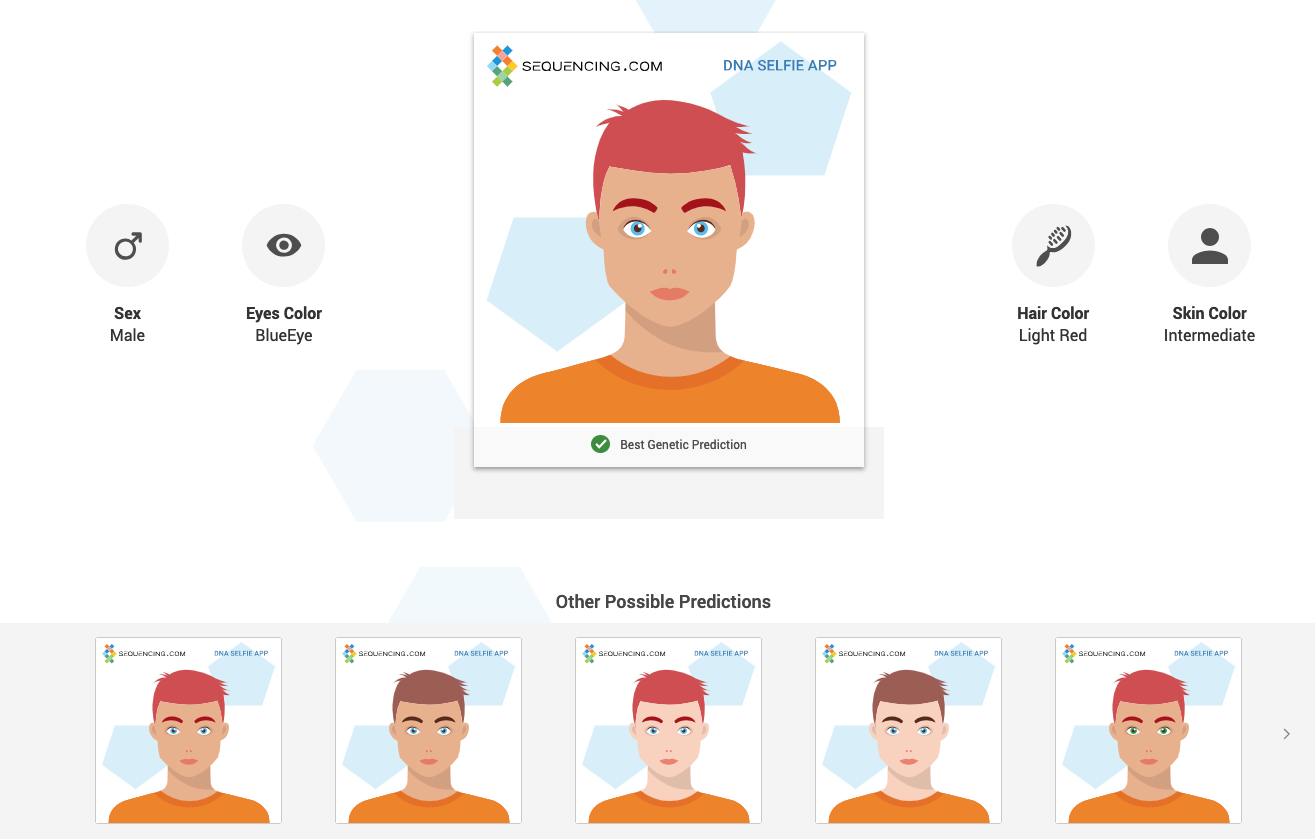 Example DNA Selfie 2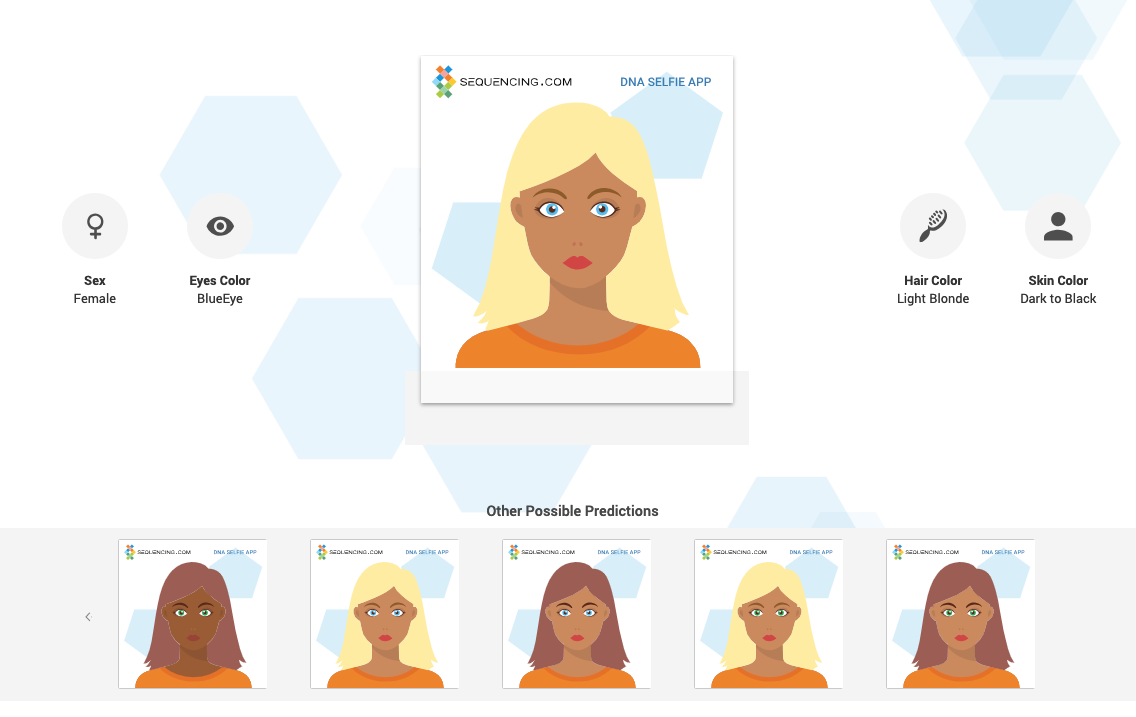 Scientific References
L. Chaitanya, et al. The HIrisPlex-S system for eye, hair and skin colour prediction from DNA: Introduction and forensic developmental validation. Forensic Sci. Int. Genetics (2018).
L. Chaitanya, et al. Bringing colour back after 70 years: Predicting eye and hair colour from skeletal remains of World War II victims using the HIrisPlex system. Forensic Sci. Int.: Genetics 26 (2017) 48-57.
S. Walsh, et al. Global skin colour prediction from DNA. Human Genetics 136 (2017) 847–863.
S. Walsh, et al. Developmental validation of the HIrisPlex system: DNA-based eye and hair colour prediction for forensic and anthropological usage. Forensic Sci. Int.: Genetics 9 (2014) 150-161.
S. Walsh, et al. The HIrisPlex system for simultaneous prediction of hair and eye colour from DNA. Forensic Sci. Int.: Genetics 7 (2013) 98 - 115.
J. Draus-Barini, et al. Bona fide colour: DNA prediction of human eye and hair colour from ancient and contemporary skeletal remains. Investigative Genetics 4 (2013) 3.
S. Walsh, et al. DNA-based eye colour prediction across Europe with the IrisPlex system. Forensic Sci. Int.: Genetics 6 (2012) 330 - 340.
S. Walsh, et al. IrisPlex: a sensitive DNA tool for accurate prediction of blue and brown eye colour in the absence of ancestry information. Forensic Sci. Int.: Genetics 5 (2011) 170 - 180.
S. Walsh, et al. Developmental validation of the IrisPlex system: determination of blue and brown iris colour for forensic intelligence. Forensic Sci. Int.: Genetics 5 (2011) 464 - 471.
W. Branicki, et al. Model-based prediction of human hair color using DNA variants. Human Genetics 129 (2011) 443 – 454.
F. Liu, et al. Eye color and the prediction of complex phenotypes from genotypes. Current Biology 19 (2009) R192-R193.
Free DNA Data Upload

Compatible with data from almost all DNA tests and genome sequencing services.
Test Compatibility
Format Compatibility
Variant Compatibility
Reference Genome Compatibility
Whole Genome Sequencing
FASTQ and FQ
SNP / SNV
(Single Nucleotide Variants)
hg38 / GRCh38
Exome Sequencing
FASTA and FA
hg19 / GRCh37
Ultimate DNA Test
BAM
hg18 / GRCh36
23andMe
SAM
hg17 / GRCh35
AncestryDNA
CRAM
MyHeritage
VCF
Dante Labs
Genome VCF (gVCF and GVCF)
Nebula Genomics
TXT
Genes for Good
CSV
Living DNA
TAB
HomeDNA
gz and zip compressed files
FTDNA
almost all other genetic data formats
Silverberry Genomix
Toolbox Genomics
Full Genomes
Color
New Amsterdam Genomics
24Genetics
Vitagene
Helix
Genos
tellmeGen
GSA
Axiom
almost all other genetic tests
Instructions
It's easy to take a DNA Selfie!
Upload a DNA data file into your Sequencing.com account. This app is compatible with data from all DNA tests.
Purchase and start this app.
Select your DNA data file and click submit.
FAQ
Questions and Answers
Will my DNA selfie look exactly like me?
The app uses an advanced statistical algorithm that determines the most likely facial traits. So while it will generate a picture with the most likely traits, the selfie is an approximation using only your DNA as the guide.
For example, your DNA can't be used to determine the current length of your hair, if you have a tan and even your age. Because of this, you will likely notice that the selfie isn't an exact replica of you. It is, however, the best approximation that can be provided based on years of genetic research.
Why does my DNA selfie have a different hairstyle than I have?
This app only analyzes eye color, hair color, hair shade, and skin color. You'll have a lot of other facial features that the app currently doesn't predict.
For example, this app doesn't predict any of the following: hair length, hair shape, hairdo, nose shape, facial shape, complexion, the distance between your eyes, the appearance of your ears, and whether you've been tanning (and your skin may be a different shade).
How often is the app updated?
Often! The algorithm for this app is updated on an on-going basis so that the selfie provided is based on the latest scientific advancements.
This app will always provide the latest and greatest DNA-based appearance prediction.
Disclaimer
The genetic analysis and statements that appear in this app have not been evaluated by the United States Food and Drug Administration. The Sequencing.com website and all software applications (Apps) that use Sequencing.com's website, as well as Sequencing.com's open Application Programming Interface (API), are not intended to diagnose, treat, cure, or prevent any disease.