Overview

Fitness DNA Test Report
Get better results from your training
Save money on unhelpful sports supplements
Understand your potential risks of injuries
Accelerate your progress with a supplement regimen tailored to your genes
Minimize time and experimentation with your workout regimen
Find out if your lack of results may be due to your genes or environment
DNA Analysis Topics Covered
Are you genetically built for endurance or power?

Aerobic ability

Anaerobic ability

Does your DNA affect your attitude towards exercise?

Desire to exercise

Exercise frequency

Are you genetically at risk for injuries?

Muscle injuries

Tendon injuries

How can you maximize the benefits of training?

Weight loss

Boosting oxygen use

Heart health

How can you improve your fitness-related predispositions?

Natural supplements

Foods

Lifestyle changes
Examples of Genetic Analysis Performed By This App
Weight Loss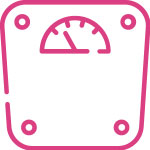 The Insulin-induced gene 2 (INSIG2) is associated with obesity and increased BMI. If you carry a certain SNP variation, you may be genetically at risk of gaining more fat. Substances that decrease INSIG2 production include curcumin, estrogen, and acetaminophen
Building Muscle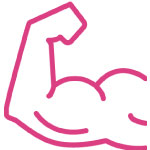 The IGF1 gene helps your muscles grow. If you have reduced levels of IGF1 due to your genotype, you may experience slower muscle development. To increase IGF1 levels you may need to increase caloric intake, eat more red meat, and supplement with whey protein.
General Exercise Motivation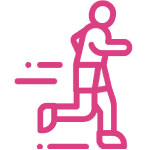 The DRD2 gene helps you stay motivated to exercise. Certain SNPs are associated with a lower frequency of exercise due to a lack of motivation. Increasing your DRD2 levels can be achieved by fasting or getting more sun exposure.
Sample Genetic Report Pages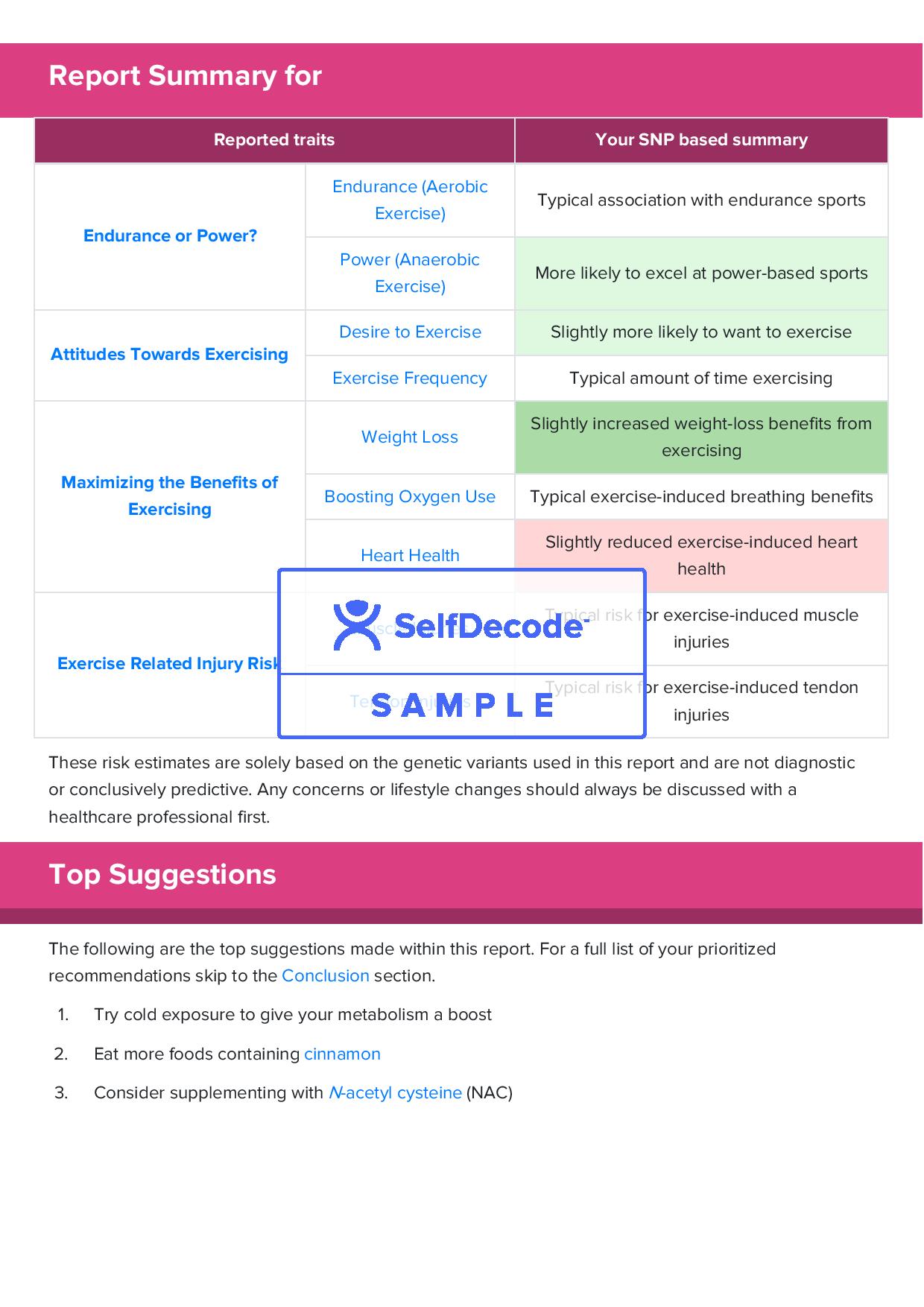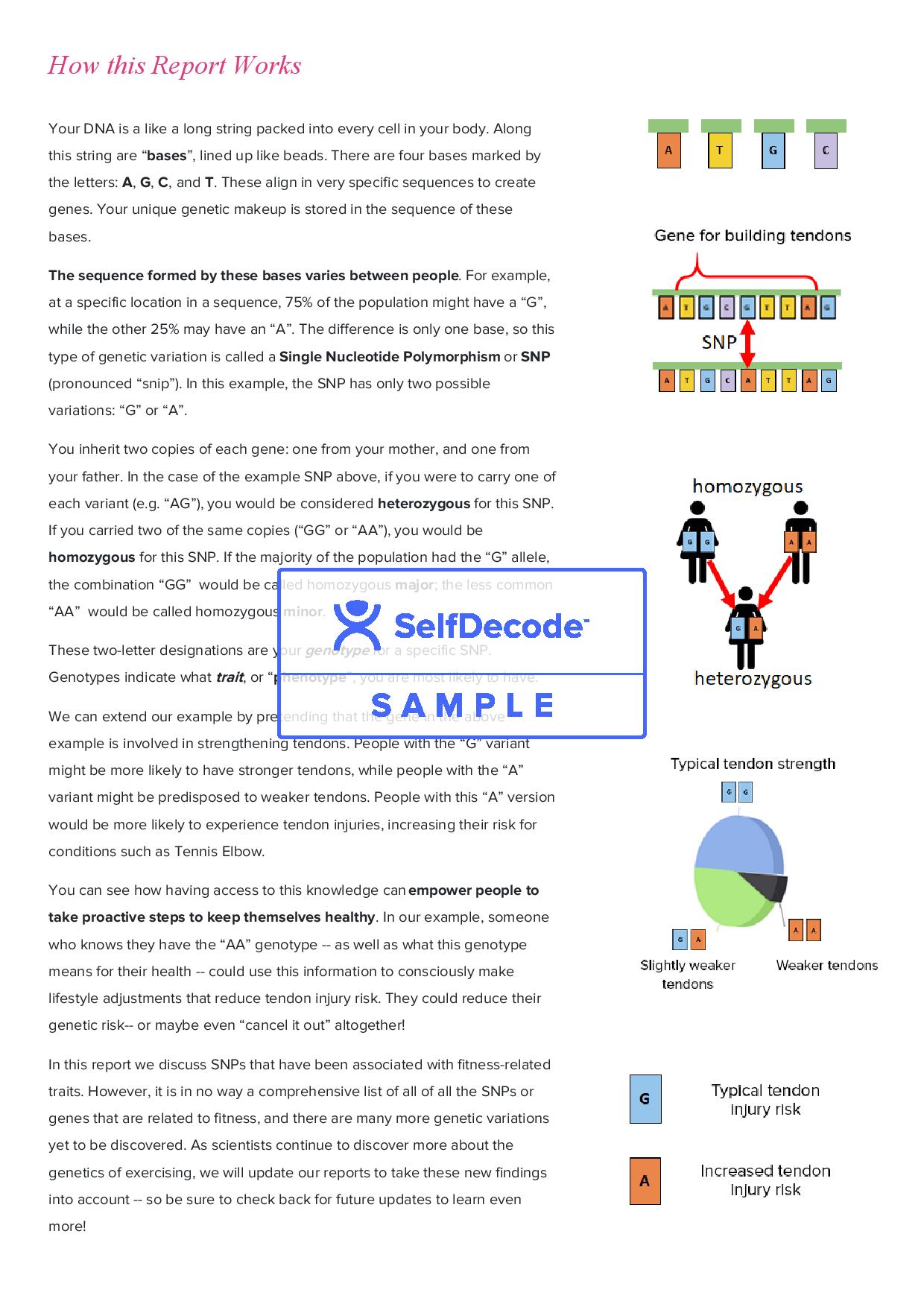 Getting Started

This DNA app determines your fitness DNA wellness by analyzing your DNA.
Once your DNA data is stored in your Sequencing.com account, after purchasing this DNA report simply click the app's 'Start' button and you'll receive your report in about 30 minutes.
If your DNA data is not already stored in your account, you can either import your data from a DNA test you've already taken (such as from 23andMe or AncestryDNA) or you can order one of our DNA tests.
| You've already taken a DNA test | You need a DNA test |
| --- | --- |
| | |
| | |
| | |
| | |
| Our Universal DNA Compatibility enables this app to work with DNA data from almost any genetic test including 23andMe, Ancestry, MyHeritage, FTDNA and genome sequencing. | Our clinical-grade 30x Whole Genome Sequencing test obtains data on 100% of your genome. |
Free DNA Data Upload

This DNA analysis app is compatible with data from most DNA tests.
Use the Upload Center to upload your DNA data.
Test Compatibility
Format Compatibility
Variant Compatibility
Reference Genome Compatibility
Whole Genome Sequencing
FASTQ and FQ
SNP / SNV
(Single Nucleotide Variants)
hg38 / GRCh38
Exome Sequencing
FASTA and FA
hg19 / GRCh37
Ultimate DNA Test
BAM
hg18 / GRCh36
23andMe
SAM
hg17 / GRCh35
AncestryDNA
CRAM
MyHeritage
VCF
Dante Labs
Genome VCF (gVCF and GVCF)
Nebula Genomics
TXT
Genes for Good
CSV
Living DNA
TAB
HomeDNA
gz and zip compressed files
FTDNA
almost all other genetic data formats
Silverberry Genomix
Toolbox Genomics
Full Genomes
Color
New Amsterdam Genomics
24Genetics
Vitagene
Helix
Genos
tellmeGen
GSA
Axiom
almost all other genetic tests
Related DNA Test Reports

Additional DNA Reports by SelfDecode