Overview
Receive professional guidance from a genetic counselor
Advanced artificial intelligence (AI) is used to aid genetic counselors so they can most effectively answer your questions in any of the areas below.
| | | | |
| --- | --- | --- | --- |
| Understanding Health Risks | Medication Reactions | Family Planning | General Curiosity |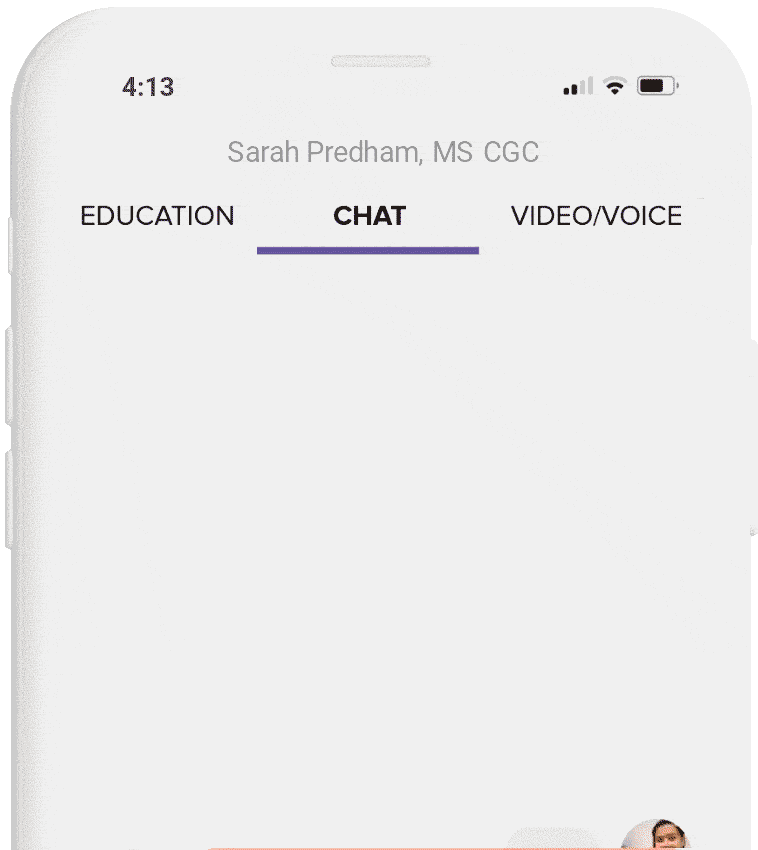 ✓ 60 days online chat with a licensed genetic counselor
✓ Discuss your DNA reports

✓ Get your DNA questions answered with up-to-date interpretations
✓ Ability to upload additional genetic testing reports (e.g. pdf reports)
✓ Discuss genetic testing options
✓ Use any device to securely chat with a genetic counselor including your desktop computer, tablet or phone

On Your Time
Discuss and get your questions answered from the comfort of your home or on the go.
Quick Responses

We guarantee a response from a genetic counselor within 48 hours.
Personalized and Up-to-Date
Artificial intelligence is utilized to aid and augment our genetic counselors to help ensure they are providing the most accurate information.
How it Works

1. Purchase the Genetic Counseling app from Sequencing.com's marketplace at click the 'Start' button.
After purchasing the app, your app will be located in your My Apps page.
To access your My Apps page, sign into your Sequencing.com account and at the top of the page click 'Apps' and then 'My Apps'.
2. Select your DNA data file or genome.
This will automatically select all of the DNA reports that have been generated as a result of analyzing your selected data file.
3. DNAVisit will receive secure access to your DNA reports.
Please note that DNAVisit can only review reports, such as pdfs, and not the raw data itself.
4. DNAVisit will email you instructions for accessing DNAVisit's secure, private chat room.
5. You'll chat online (similar to instant messaging) with a genetic counselor and get your questions answered, typically within 48 hours.
Getting Started

You can use this app with or without DNA reports.
If you have not yet taken a DNA test and want to speak with a genetic counselor about what type of genetic test may be best for you, please purchase and start this app. Select the option in the file selector to use this app without any DNA data or DNA reports.
If you want the genetic counselor to have access to your DNA reports, start the app and select the DNA data file that was used to generate the report. The genetic counselor will then have secure access to all DNA reports that have been generated from that data file.
If your DNA data is not already stored in your Sequencing.com account, you can either import your data from a DNA test you've already taken or you can order a DNA test.
| You've already taken a DNA test | | | You need a DNA test |
| --- | --- | --- | --- |
| Upload your DNA data | | | Order a DNA test |
| | | | |
| Our Universal DNA Compatibility enables this report to work with DNA data from almost any genetic test | | | Our clinical-grade 30x Whole Genome Sequencing test obtains data on 100% of your genome. It is the only test that provides enough genetic data for the Comprehensive version of this report. |
| | | | |
| | | | DNA tests performed by 23andMe, Ancestry, MyHeritage and similar companies test less than 0.1% of your genome |
Upload DNA Data

Use the Upload Center to upload and use your DNA test or genome sequencing data.
Powered by our Universal DNA Compatibility technology, this report is compatible with data from most genetic tests.
Test Compatibility
Format Compatibility
Variant Compatibility
Reference Genome Compatibility
Whole Genome Sequencing
FASTQ and FQ
SNP / SNV
(Single Nucleotide Variants)
hg38 / GRCh38
Exome Sequencing
FASTA and FA
INDEL
(Insertion Deletion Variants)
hg19 / GRCh37
Ultimate DNA Test
BAM
hg18 / GRCh36
23andMe
SAM
hg17 / GRCh35
AncestryDNA
CRAM
MyHeritage
VCF
Dante Labs
Genome VCF (gVCF and GVCF)
Nebula Genomics
TXT
Genes for Good
CSV
Living DNA
TAB
HomeDNA
gz and zip compressed files
FTDNA
almost all other genetic data formats
Silverberry Genomix
Toolbox Genomics
Full Genomes
Color
New Amsterdam Genomics
24Genetics
Vitagene
Helix
Genos
tellmeGen
GSA
Axiom
almost all other genetic tests
About DNA Visit


DNAVisit is a health technology company located in California that connects you via secure, online chat with clinical geneticists and genetic counselors.
Just like Sequencing.com, DNAVisit:
✓ is HIPAA-compliant
✓ keeps your information confidential and private
✓ does not sell your data to third parties
Disclaimer
All the information provided by DNAVisit is for educational and research purposes only. The information is not intended to diagnose, treat, cure, or prevent any disease or health condition. Most tests and research do not cover all variants related to a condition. In general, it's advised to confirm any significant finding by an independent clinically validated test. Also, keep in mind that non-genetic factors such as environmental, lifestyle, and family history can play a large role in identifying the risk for any trait or disease.
You should share or discuss any data with a healthcare provider before making any medical or reproductive decisions. In some states, we directly offer the ability for you to chat with a healthcare provider such as a genetic counselor or physician.
The genetic analysis and statements that appear in this app have not been evaluated by the United States Food and Drug Administration. The Sequencing.com website and all software applications (Apps) that use Sequencing.com's website, as well as Sequencing.com's open Application Programming Interface (API), are not intended to diagnose, treat, cure, or prevent any disease.